Along with hardware upgrades, user experience and durability are the top two factors that Samsung focuses on for the 2023 product line this time.
Samsung has just officially introduced a series of new TV products with many advanced features and beautiful designs. The new products include 8K QLED TV, 4K QLED TV, and 4K UHD TV, with various screen sizes to suit customers' needs. In addition, Samsung also introduces many other audio-visual products at this Samsung Tech Event.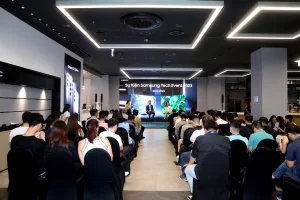 One of the notable features of Samsung's new line of TV products is the Quantum Matrix technology, which enhances brightness and contrast for extremely vivid and realistic images. The new TVs also come equipped with Quantum HDR 32x technology, providing excellent contrast and color depth.
Furthermore, Samsung has also improved the sound technology of its new TV products, with speakers integrated into the TV stand to create clear, lively, and impressive sound. What sets Samsung's new TV products apart from others is the SpaceFit Sound feature, which allows the TV to automatically adjust the sound to fit the listening room space.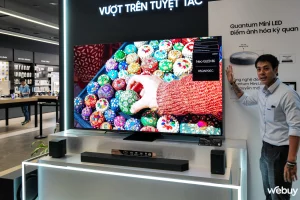 To meet the customers' demand for home entertainment, Samsung has integrated many intelligent features into its new TV products, including the Bixby virtual assistant, Google Assistant, and Amazon Alexa, to help users easily interact and control the TV with voice commands. In addition, Samsung also provides a wide range of diverse entertainment content for customers, including many online TV and movie applications, ensuring excellent entertainment for users.
Furthermore, Samsung is committed to sustainability by bringing advanced and environmentally friendly technologies to improve users' lives. The company uses various technologies to create sustainable products, from sourcing to manufacturing, distribution, usage, and recycling.
Samsung pioneers 3 innovative approaches towards sustainability: turning CO2 into recycled materials, limiting material usage and recycling old products and packaging. Samsung has also developed the AI Energy Mode, which helps users easily monitor energy consumption, usage habits, and self-control. Additionally, Samsung has developed the third-generation SolarCell remote control, which is compact and uses fewer materials, along with the latest Relumino mode, which helps visually impaired people have a better audio-visual experience.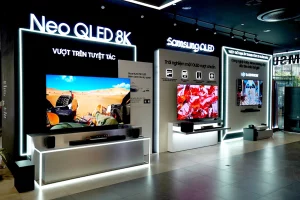 The new TV products from Samsung will officially be available for sale worldwide in the near future. Customers can choose products that suit their usage needs and budgets to experience great entertainment at home.