Despite being criticized by many users, iPhone has remained steadfast with the notch design for many years. However, it seems that Apple has once again shown its foresight.
The death of the pop-up camera
The obsession with borderless screens on smartphones was fueled by Xiaomi's Mi MIX in 2016, which boasted a screen-to-body ratio of 91.3%, leaving the public in awe.
To achieve this design, Xiaomi used a unique solution by placing the camera at the bottom bezel of the phone.
Other manufacturers like Samsung implemented less complicated solutions to increase screen-to-body ratio by shrinking the top and bottom bezels on the Galaxy S8 and S9. Apple's iPhone X and OnePlus 6 featured a notch, but were still criticized for lacking aesthetic appeal.
Soon after, the competition shifted to waterdrop-shaped screens before settling on the popular hole-punch design. However, a few years ago, the most talked-about design was the pop-up selfie camera.
Despite efforts, no design won the race to increase screen-to-body ratio via a pop-up selfie camera. This form allowed for high screen-to-body ratios without the drawbacks of a notch, hole-punch, or even thick bezels.
The design also provided phones with a futuristic look while also alleviating privacy concerns as the front camera isn't always staring at the user.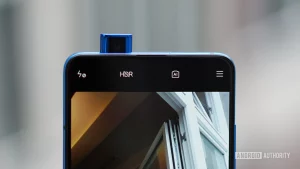 The first product to hit the shelves with a pop-up camera was the Vivo NEX in 2018, paving the way for many other products to launch in 2019.
Products like Oppo's Reno 10X Zoom brought striking designs, but it was Xiaomi's Mi 9T and OnePlus 7 Pro/7T Pro that made the pop-up selfie camera design the dominant trend.
However, for some reasons, this trend unexpectedly declined shortly after its introduction. Pop-up designs gradually decreased in 2020 and disappeared entirely in 2021.
The most recent devices with pop-up cameras are the Lenovo Legion Duel 2, which focuses on gaming, and the Asus ZenFone 8 Flip. Both devices have limited sales, indicating that the demand for pop-up cameras is not significant.
Is the death of the pop-up camera at Apple?
Why is the trend of the camera being considered the future dying out so quickly? Is it because the big players like Apple and Samsung have never accepted this design?
In fact, the reason comes from technical issues. The pursuit of thinner and lighter phones is one of the reasons that make the protruding selfie camera popular. However, these modules do not serve the purpose as manufacturers expect.
Instead, they add more weight and overall thickness to the phone because of the many complex components required to function properly.
In addition to the complexity, the camera's protrusion also means there will be another opening to suck moisture into the phone. Therefore, none of these phones support IP6X waterproof rating.
Although manufacturers always claim that the protruding selfie camera has been widely tested to ensure their durability over time, the fact is that moving parts will wear out more easily than stationary parts.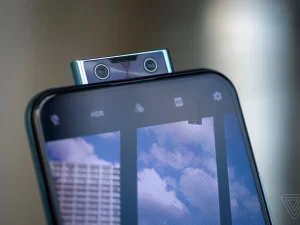 For people who rarely use the front camera, hiding the camera is an exciting option. They can have a phone with a full-screen display while only sacrificing something they rarely use.
However, for those who take many selfies, make frequent video calls, and shoot short videos for social media, having a pop-up camera that appears and retracts every time they want to use an app can be annoying. The noise generated by the mechanism can also become unpleasant over time.
In a world with over 1 billion TikTok users, having a hidden selfie camera on a phone is not practical. This is also true for apps that frequently use the front camera, including Instagram, WhatsApp, and even Telegram.
Even manufacturers have quickly realized that sacrificing internal space for a camera is not worth it. It's no surprise that the trend ended even before Apple and Samsung had any plans to do something fancy.
Many argue that these mechanisms are just a temporary measure to push for under-display camera technology, which is expected to replace punch-hole designs in the near future.
With under-display cameras, there would be no need for pop-up or notch cameras. This alone is enough to excite those who are interested in full-screen designs.
However, pop-up cameras still leave a positive impression on users. In a recent survey, over 50% of respondents agreed that they missed having a pop-up selfie camera on their smartphones. While about 27% said no, the rest said they have never had such a phone.
Either way, the death of something unsuitable paves the way for something better. Users may need to be a little patient before under-display cameras become a trend.