Preparing your CV is the first thing you need to do when applying for a job. You may have heard a lot about CVs but still don't fully understand what a CV is, why you need to write one, and how to write an effective CV. So, refer to the following article from abninnovation.com to have your questions answered.
What is CV?
CV (or Resume) is an abbreviation of the phrase Curriculum Vitae, originating from Latin and commonly translated as "course of life". However, it is not a self-narrated personal history form that includes full name, date of birth, place of birth, address, parents' names, siblings and spouse (if applicable), educational background and other related information.
Here, CV refers to a summary of all relevant information regarding one's educational background, work experience, soft skills, certificates, and job-related achievements that a job applicant sends to the employer.
CV is the first thing that employers care about and is an important prerequisite and indispensable element in a job application because it helps employers make initial evaluations of candidates before selecting them for an interview.
Currently, CVs are often sent online before candidates meet the employer in person. If the CV is accepted, the candidate will be invited for a face-to-face interview.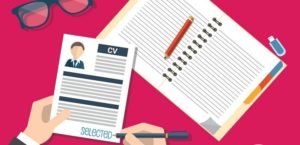 Why write a CV for a job?
The employer will not have much time to interview all candidates, so in addition to certificates and degrees, a complete and attractive CV is the first factor that employers are concerned about. A CV helps employers and companies identify you among thousands of other candidates.
Through the CV, employers will evaluate, consider, and screen the most suitable candidates for the job to move on to the interview round. Therefore, presenting a complete and visually appealing CV is also a way for you to create a good impression and "score points" in the eyes of the employer.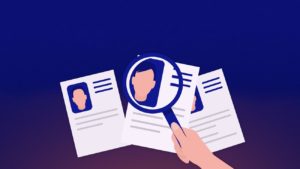 What does a CV include?
Here are the components that should be included in a CV:
Personal information
Firstly, in your CV, you need to provide basic information so that the employer can have an overview of you, including: full name, date of birth, contact information (email, phone number…). You can add a headshot if you feel that the job requires a physical appearance.
Career objective
Next, you need to state your direction for future development, which may include short or long-term goals to show your progress to the employer. Your objective should relate to the position and job you are applying for to increase persuasiveness.
Education
You should choose and list information such as university, major, enrollment and graduation time, GPA for the entire course, and grades of the main relevant majors for the position you are applying for.
If you have any scientific research, participated in projects, or taken additional courses related to skills and expertise, add them to your CV to increase the impressiveness.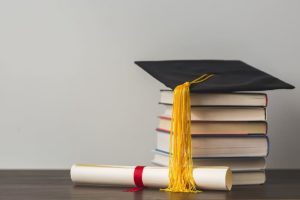 Work experience
You should list the companies and business fields you have worked in, specifying the position, expertise, and description of the main responsibilities of that job.
You should list them in chronological order and should not include short-term jobs (less than half a year).
Achieved skills
You should list the professional skills, expertise you have learned in university, acquired from work, and other soft skills. You should carefully choose details that affect the position you are applying for.
Extracurricular activities/Interests
You should list the volunteer activities, community activities, and student work you have participated in, specifying your responsibilities, roles, and achievements (if any) when participating in these activities. Additionally, you can present some interests related to the position you are applying for.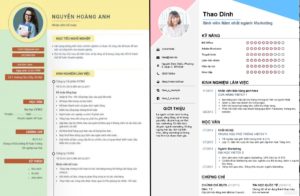 Some notes when writing a standard and professional CV.
To have a standard and professional CV, you can refer to the following tips:
Use a serious email address with your full name, such as [email protected], [email protected]…, and avoid using emails like [email protected], [email protected]…
Include a photo that shows your face directly and wearing formal attire.
Keep your CV concise, neat, and well-organized with a clear structure.
Format your CV like an academic document with a legible font and font size.
Highlight important sections and special points in bold to grab the reader's attention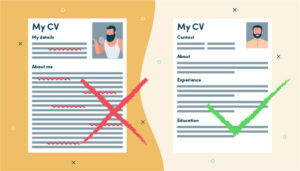 Mistakes to avoid when writing a CV.
Making spelling and grammar mistakes
All errors such as spelling mistakes, grammar errors, typing errors, etc. are unacceptable. The employer will think that you are careless, inattentive, and have not invested enough in your CV as well as the job position you are applying for. Therefore, remember to check everything carefully before submitting your CV to the employer.
Using inappropriate fonts that are hard to read
You may want your CV to stand out among a "forest" of CVs from other candidates, so you decorate it beautifully and attractively by using many different fonts and colors. However, abusing colors and inappropriate design will make the employer's eyes tired and uncomfortable, and they will reject your CV.
Not being truthful
Employers are often very perceptive in assessing the honesty of a CV. They have many ways to verify your information, so it will be truly complicated and troublesome when the employer discovers that you are not honest.
Therefore, "polish" yourself just enough and be absolutely honest in your CV.
Verbose and not focused on the main point
Employers only skim through each CV for a few seconds, so don't write too long. Focus on some keywords that fully and specifically mention the experience and skills that the employer requires
Websites to create free online CVs
You can refer to some popular websites that can help you create a CV easily such as:
Canva
Website: https://www.canva.com/
Canva is one of the familiar websites that helps you create a convenient and fast CV. In addition, with Canva, you can also easily create business cards or online portfolios.
TopCV
Website: https://www.topcv.vn/
This is currently one of the websites that many candidates choose to create a CV thanks to its many options and unique feature system, as well as the ability to design CV templates in English, Vietnamese, and Chinese according to demand.
CV Maker
Website: https://cvmkr.com/
This is a fairly simple online CV creation support website, with fast processing and multilingual support, including Vietnamese.
Online CV
Website: http://www.onlinecvgenerator.com/
This website does not require users to log in, simply access and start creating a CV. This is a perfect website for those who are just starting to write a job application CV.
Visual CV
Website: https://www.visualcv.com/
This is considered one of the best online tools if you want to create a CV that is both professional and impressive. However, it is certain that the time you invest in it will also be more than other simpler tools.